As an all-volunteer organization based in Buffalo, NY, Ed Tech of Western New York seeks to enrich the lives of children by improving access to computer technology. They set up reliable networks, WiFi, computers, smart boards, servers and other technology for community centers, schools and non-profits. Their 'Ed Tech Days' are eight hours or more spent on-site replacing and improving technology. By having teams focused on upgrading technology access in one day, things get done. As President Renee Cerullo said, "It is amazing. Stuff that would take a month, gets done in eight hours."
Doug Torre started Ed Tech of Western New York in 2003 as a way for IT professionals to give back to the community. Many volunteers have been part of the program since its beginning. The board of directors are active volunteers at the Ed Tech days and board members make the initial site visits.
While individual Ed Tech days occur during the year, the biggest push is the August Ed Tech day, where between 10-15 sites are done on a single day, timed to be ready for the start of the school year. Using equipment donated by local businesses or individuals, volunteers rebuild the equipment and work together to give each location a technology make over. The goal is to give children access to modern technology and improve their education and skill set. With so much standardized testing online, schools need access to technology. It can be a challenge when older buildings need to be rewired, which often happens. Ed Tech is sometimes involved much earlier such as when the Boys & Girls club of Holland was moving from the basement of a church to a new building. Ed Tech ran the cabling before they closed up the walls. They brought in a 30 station computer lab, plus WiFi. It was a huge project, but it was a nice change to be involved from the ground up.
The following photos are from the Ed Tech Facebook page and used here with permission.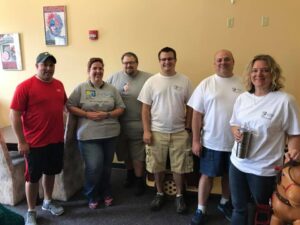 Prior to Ed Tech Day, a team leader (who is a board member and IT professional) visits the location to do a site evaluation and determine the scope of the work required. The team leader gives a written report to the Board of Directors with the site's needs and desires. The Board determines the hardware and IT personnel that can be provided. On the Ed Tech day, the team leader is available at the site all day and can handle any surprises that arise. For the August Ed Tech Day, there are five to ten volunteers at each site, and three to four floaters who drive around getting last minute supplies, taking pictures, doing interviews and doing whatever else might be needed to get the job done and promote the effort. They used to do the imaging of computers as part of the Ed Tech day, but now that work is done in advance, which has decreased the need for volunteers to return to the site after the initial set up.
About half of the board consists of people who have been involved since the beginning. All board members are volunteers, and bring their expertise, willingness to do the hands-on work needed to help Ed Tech continue to succeed.  They recruit board members from major vendors that they use, by outreach from existing board members, and from people who volunteer at one of the Ed Tech days. Some people also learn about them through trade shows. It helps to keep the main Ed Tech day the same, and that the commitment is for one day. They have an annual golf fundraiser and recognize volunteers there as well as on social media. To staff their Ed Tech days, they use the United Way volunteer site. Also, since high school students have to do service hours, they get some volunteers from there. For companies that have volunteer days, Ed Tech works with them,  although in recent years, there has been a reduction in companies sponsoring volunteer days. Having an advocate within a company helps.
They purchase the WiFi and networking devices. PCs and laptops are all donated. They often get companies to donate their equipment when they're doing an upgrade since otherwise companies have to pay to have the equipment recycled. Recently, a bank in the area was getting rid of a lot of equipment to any nonprofit that wanted them. Ed Tech though they might get 50, but asked for 200 PCs and 200 laptops. They got the 400 and had to scramble to find storage for them, but they managed. One challenge they have been facing is the loss of donated office space, which they used for doing the computer refurbishing, but now they just have a warehouse to store parts. They find organizations willing to let them use their space to image computers for a few days as needed.
Their main clients are schools although they have provided technology to a veterans' group when a member of the group asked the president, "How do we get laptops for education?" A mid-state group found them online and put in a request, although they mainly serve the Buffalo area. Clients begin by signing up on line.
Their page of testimonials demonstrate the effectiveness of Ed Tech Day and can be seen at: http://www.edtechwny.org/Testimonials.