Sometimes, you're walking along in life, and there's an unexpected surprise. It could be finding a five dollar bill on an empty street, or a bakery on a street where you didn't expect one, or a beautiful flower poking up through a crack in the pavement.
Or sometimes, it comes from another person- a suggestion to get together for coffee, a cogent piece of advice, an offer to introduce you to a colleague with a job opening, or a stranger engaging in a random act of kindness.
In the last year, I've been fortunate to have experienced a virtual stream of such offers. From the initial suggestion that I start an organization which helps bridging agencies share information, to the chain of events which resulted in our board member Maryanna Milton leading a session at the Partnership for Progress on the Digital Divide (PPDD) Conference last year, we have been presented with exciting opportunities, at the suggestion of others.
This month, I was reviewing the links from our web-site to our partners, and our partners links back to us, reminding those who didn't yet have one that they should present our logo with a link to PBDD. A contact at one of our partner agencies, Steve Black at TechBoomers, had seen our logo and thought it could be improved upon. He generously offered to sponsor a designer to look at it. Being no graphic artist myself, I gladly accepted the offer. After several iterations, with feedback from Steve and the folks at PBDD, we are very happy with our new logo: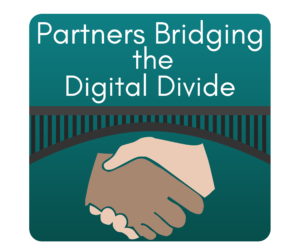 I'm very grateful to Steve, not only for helping fund and design the logo, but for making me appreciate the joy in unexpected offers.
TechBoomers.com is an eLearning website with 65+ free courses that teach inexperienced technology users how to use popular websites and apps like LinkedIn, eBay, Uber, and Instagram.