Thanks to all who contributed comments to PBDD-White Paper: Lessons from Starting a Bridging Agency. We encourage you to share it with others as part of your organization's publicity. To make it easy to find them, we've created an Experience Papers web page.
The National Digital Inclusion Alliance http://www.digitalinclusionalliance.org/ started last year to provide a unified voice for local technology training, home broadband access and public broadband access programs. The NDIA has been doing great work in advocacy with the FCC for Lifeline services. They are building community among organizations working to increase digital inclusion.
Programs which may be of interest include:
Becoming an affiliate will put you on their mailing list for visibility of initiatives across the country. Becoming an NDIA affiliate is free, and simply involves agreeing to the affiliation statement at http://www.digitalinclusionalliance.org/join/ The focus of the organization is currently broadband connectivity, but some of the research studies cited may provide helpful material for grant applications.
In case you missed Barry's blog post on the topic, we have a new logo, thanks to our partner TechBoomers. If you could update the link on your web pages which point to PBDD, we would appreciate it.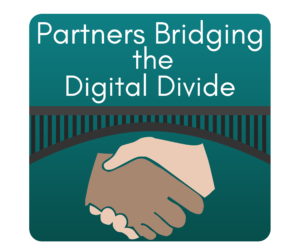 Another resource to be aware of is EveryoneOn.  They are a national nonprofit working to eliminate the digital divide, and they provide a location-based directory service for clients to locate broadband, low-cost computers, and computer training. While they work with nonprofits, the locator tool does find commercial equipment (at a  lower-cost). They can also help your clients find resources for broadband connectivity and training in your area. If your organization provides computer training, you can sign up as an enrollment partner to be listed as a resource.