Lutheran Social Services of North Florida has a Computer Refurbishing & Technical Assistance (CRTA) program that provides low-cost computers in northern Florida. Katherine and Barry met with William Stone and Peter Ott in November of 2015 to talk about how our agencies might help each other.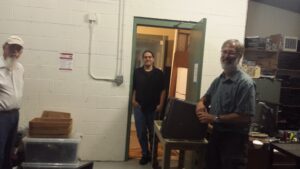 The Computer Refurbishing and Technical Assistance program was started as a service of an existing agency when a teacher at Florida State University wanted to start a computer refurbishing program and contacted Lutheran Social Services of Northern Florida. The program refurbishes computers donated by the community and distributes them in North Florida. Potential clients come through partner referral agencies which does the recipient vetting and makes the actual request on the CRTA website. Since each request is on behalf of a specific person or family, the computer can be adapted for special use when needed.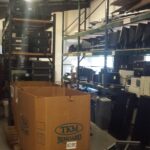 CRTA has a warehouse for storing parts, which helps since they accept all electronics for reuse and/or recycling. They are a Microsoft Registered Refurbisher. Electronic waste increases as consumers upgrade to newer technologies. CRTA receives computers and related technology that would otherwise be discarded. Most of these machines go on to bridge the digital divide by serving local not-for-profit agencies, their clients, and/or local elementary and high school students. The items received that are broken or that do not meet quality standards are sent for environmentally-friendly electronics recycling. None of the items go to landfills.
CRTA works with:
collaborating referral agencies (such as schools and non-profit human service agencies)
technology donated by the community
student volunteers/interns under the direction of an IT professional
Recycling agencies that adhere to R2 standards
Clients must pay $50 for the computer, mainly to ensure that the computer is seen as being of value.
CRTA doesn't provide training to the general public, although they have established mini-labs with nine nonprofits in the area, setting up public-use computers to help people learn how to use computers. Local libraries, community colleges and senior centers provide computer training courses.
CRTA distributes hundreds of computers to facilitate:
students doing their homework
veterans finding employment
adult learners acquiring their GED
disabled individuals meeting special needs
non-profit agencies serving at-risk youth, formerly incarcerated individuals and refugees.
LSSNF provides hands-on experience to local university students through a for-credit internship program. The students not only learn how to refurbish computers, they also do a project of their choice such as setting up a network or a server. Students do not need to be enrolled in an IT related major or have prior experience in order to participate in the internship program. It's especially rewarding to the CRTA program when a student comes back to help train the next group.
CRTA also provides a location for collecting unwanted technology for responsible and environmentally-sound recycling. They are the third largest electronics recycler in the area.