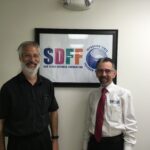 San Diego Futures Foundation (SDFF) provides technology equipment, training, support, IT outsourcing, electronics recycling and digital media services to nonprofit organizations, disadvantaged small businesses, low-income households, people with disabilities, and seniors in San Diego County. It was started in 1999 as the County of San Diego moved IT and telecommunications services online. Barry and I met with Gary Knight, the Executive Director on a recent trip to San Diego. We had visited him almost a year ago, and had also talked with Gary at the 2018 NDIA Net Inclusion conference, which we had recommended to him. Of special interest to our partners may be SDFF's work with the visually impaired, their excellent writeup of volunteer positions, and their coding boot camps.
SDFF recently introduced a new coding bootcamp to their training course options, which include digital literacy and adaptive technology. Three people graduated from their first coding bootcamp for adults, with one having a job already lined up. The two other graduates were hired by SDFF. Coding skills can result in a high-paying job without a four-year degree. They are currently running another bootcamp with 14 people attending. After the high dropout rate of the first boot camp, they have learned to increase their screening process by going through what will be required. They require three on-site visits to the SDFF facility as part of applying to the bootcamp.
They have an adaptive technology program that strives to equip blind and visually impaired individuals with the technological skills and equipment they need to thrive as productive and successful members of their communities. They currently have 16 people attending, which is their capacity. They have three trainers who meet two times a week with each person. The students sometimes have to learn how to listen to instructions, then do them. This can be difficult if they're not auditory learners. SDFF has placed nine students in jobs. Going on to school is also a success, and many are doing that. It can be difficult to teach more advanced computer programs because the software is expensive. Trial versions don't work too well, so SDFF purchases the software for training. The companies that hire one of their students from the adaptive technology program usually buy the program as well. They have discovered that companies sometimes haven't thought through the ramifications of having someone working for them who can't see where the bathroom is, or the conference room, or the lunch room, but the companies are willing to make accommodations. Companies can get information from the California Department of Rehabilitation.
SDFF Training for the visually impaired includes:
Using the computer,

Learning to listen, then doing

Learning programs such as Excel, Word, etc.
Many of the visually impaired students aren't used to keeping schedules which can cause problems since the funding for the adaptive technology training is such that if students don't show up, the trainers aren't paid. SDFF hadn't budgeted for no-shows, so has had to make up the revenue which they have done by finding other tasks for the teachers to do, like checking websites for accessibility. But they have also added the soft skills of time management and keeping to a schedule to their training curriculum to ensure success in the classroom and subsequent employment/eduction. 
SDFF accepts most computer-related electronics, refurbishing computers for sale and donation to low-income individuals and local non-profits. Most of the refurbishing work is done by trained volunteers.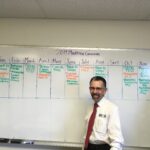 SDFF is also involved in basic digital literacy training, with 300 seniors participating in 2018. They offer several classes ranging from introduction to computers, to smart phones, to using social media and sharing photographs. SDFF collaborates with many other organizations and has found it useful to let other people be the recruiters for their classes.
They had a STEMFEST for youths. 356 people attended with 29 vendors and 3 motivational speakers. STEMFEST showcased people who are working in the industry so that young people can understand the practical applications, which means they are more willing to go through the work. They partnered with a local YMCA for both the launch of the event, and to provide a year-long program.
They also had very good descriptions of what they could use volunteers for. For example, under Community Outreach Volunteer, they list out the tasks of staffing a table at events, assisting with special events and other tasks necessary to create awareness and educate the community about SDFF's resources, services, volunteer programs, and upcoming events. 
Gary credits going to Net Inclusion (which we encouraged him to attend) for motivating him to restructure SDFF around the aspects of digital inclusion. This was a gratifying  success story for PBDD to learn about, and which coincidentally ties in with our next white paper topic: Sharing your Success Stories.
Katherine Lato — VP Communications PBDD