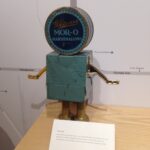 Date: Friday, May 13
Time: 9:30 a.m.
Location: People's Resource Center, 201 S. Naperville Road, Wheaton Illinois
Meeting Type: Regular Meeting
How Called: Standing meeting
Convened: 9:28
Attendees: Barry, Maryanna, Katherine
1 Minutes
Approval of April minutes
2 New Business
Updated Financials from previous fiscal year (address in-kind donations). In-kind donations will be reflected.
Update on NCF discussions and AFTRR partnership – after the call all board members participated in, follow-up emails and phone calls. Discussed their introducing PBDD in their monthly newletter with our training. Not a committed date yet. Follow-up with their IT person about the framework for their vetran's resources, but the framework requires some changes before it is ready to be tested as a stand-alone framework. Barry has agreed to test it once it's available.
Introduce & discuss Training Material Database – Barry has a draft of one that board members reviewed. For now, this can be used to test cristina.org's framework, but it may also drive the development of a database. Barry has shared a google-doc.
3 Action Item Status Closed Items
Closed 5/13/16 – Opened Sept 2015, update 3/4/16.  Contact Milwaukee public library for sharing training information, etc. – Barry – Left message for Stephanie Robinson (Public Computer Training Coordinator) 9/22.  Information is available at: http://www.mpl.org/content/pdfs/2016_ComputerClasses_Spring.pdf  Turns out there aren't online courses.  Placed call 3/28 to Sha'Nese Burnell Jones, asking for a meeting. Received a call back 3/31, saying to expect a call from Tiffany (Sha'Nese does internal staff training, not training for the public). We are closing this since we are getting the run-around. We're happy to talk to people, but not chase them to give them help.

Closed 4/17/16 – Opened Dec 11 2015. Barry will delete items from media that aren't needed to see if that helps with uploading pictures. Problem was related to WordPress update. Resolved without deleting files, but should probably delete files that aren't needed.  Barry deleted the excess files.

Closed 5/13/16: Opened April 8: Barry will respond to Bud (cristina.org) offering to draft a letter to their partners about us–Katherine will help. There will probably be ongoing conversations, but we don't need to track it as open items.
4 Action Item Status Updates
Walking through Action Item List and noting updates.
5 Information Sharing
FCC Ruling, blog post, Wikipedia, Response – Barry wrote a blog post (on Katherine's suggestion), got 98 hits on our website on the first day. Beating our old record hits of 69. Barry updated wikipedia.

RAILS Subcommittee – Barry attends. 

Website Updates – training pages, old FCC stuff, Katherine improved the Newsletter summaries with the font, having links show up in the summaries, etc. Also made a News & Blogs summary page.

U of Indiana Researchers – they'll be back to do interviews.

NDIA Conference: Lightening Round Presentation – Katherine prepared a presentation. Click here for slides.
I

nside the Drive Your Learning website, Barry's class on Setting up a gmail account has 128 total enrolled with 55 completed as of 5/13/16. This class is also available at: 
6 Time and Location for Next Meeting
Next meeting – June 10 @ 9:30 
7 Adjourn –
Adjourned: 10:48