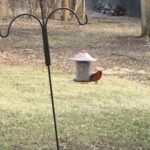 Date: Friday, March 2
Time: 2:30pm. CST (1:30 pm MST)
Location: Zoom
Meeting Type: Regular Meeting
How Called: Standing meeting
Convened: 2:30
Attendees: Barry, Maryanna, Katherine
1 Minutes
January minutes approved.
2 New Business
Election of Officers  for 2018-19. Same as 2017. Motion passed.

Annual statement by officers acknowledging Conflict of Interest policy has been done.
3 Information Sharing
Net Inclusion Planning- we're going!

Cleveland AirBnB is booked.

Travel Plans, 5:20 p.m. arrival for Maryanna. 7:35 p.m. departure

Barry is participating in the Digital literacy training materials and assessments panel

Lightning Round- confirmed for Maryanna. Awaiting time-slot assignment

Has everyone reserved a

site tour using

sched.com

? Yes.

Digital Inclusion Conference in Canada in February

– Barry attended & included a brief write-up in the

February newsletter Also talked with

Peer-to-peer white paper — published Feb. 28, 2018. P2PU tweeted it, put it on FaceBook. May be some further involvement with P2PU.

Partner Status.

C2SDK Partner profile publicized in

February newsletter

New partner: CompuCorps in Ottawa

Website Updates- Newsletter, White Paper, White Paper Summary Page

Maryanna's

Measuring impact – partner questions next step? Review the questions, send them out to partners, identify which partners (more-established) we really want answers from.
P2PU conference in Kansas City in May http://kc2018.p2pu.org/ Barry and Katherine may go.
4 Action Item Status Updates
Walking through Action Item List and noting updates. In the minutes, this will record items closed during meeting.
Closed:
Closed 3/2/18 Opened 6/19/17 – everyone start using name@pbdd.org for emails (can forward) now that we have G suite. For new business cards, etc.

Closed 3/2/18 – Opened 6/19/17 – sign up for and start using Google ad grants. Site in general, just to let people know we exist (not donations). Barry signed up & did an initial ad (9/25/17), but we don't see a lot of value.

Closed 3/2/18 Opened 11/17/17 – Barry & Katherine met with partners  in January. Have released a partner profile for c2sdk. 
5 Time and Location for Next Meeting
Next meeting –  Tuesday April 17 at 10am EDT in Cleveland EDT via live meeting.
6 Adjourn
Adjourned: 4:06