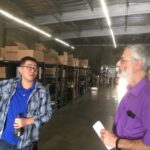 human-I-T's goal is a world where every family has a working computer. Katherine and Barry visited their site in Los Angeles in early January where they met with Qu Chen, head technician, part of the human-I-T Team.
The founders, Gabe Middleton and James Jack, met while managers at Best Buy. They started Computers for a Cause in 2012 and changed the name when another organization with a similar name contacted them. human-I-T distributes technology to low­-income families, veterans, disabled people, schools and non­profit organizations. Households without computers are at a huge social and economic disadvantage. By repurposing unwanted electronic devices,  human-I-T is addressing this disadvantage while also cutting down on electronic ­waste shipped overseas every year.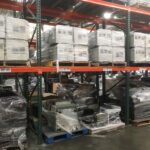 As they started to grow, they realized that for a reliable source of quality computers to be refurbished, they should position themselves to businesses as a data destruction and refurbishing service, not as a non-profit asking for donations. This model has helped them grow quickly, requiring them to move to repeatedly move to larger spaces, but allowing them to provide 1400 computers in 2017.
The mission at human-I-T is to transform unwanted or non-usable equipment into useful tools for people in need. Communities and businesses can safely donate unwanted technology so it can reused by others, recycling isn't enough. The effect on the environment of not reusing equipment is high with technology discarded in landfills creating toxic waste.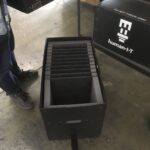 They have special donor boxes to reduce the damage caused in shipping material to human-I-T. And they have detailed shipping instructions, as well as manuals for other aspects of their process.
Many consumers are upgrading to the latest model of smartphone, tablet and laptop computer.The most common type of computers they receive as donations are business grade computers. These are easy to refurbish. By donating their old devices to human-I-T, this equipment can be refurbished with apps and content added and distributed free of charge to homeless teens. Training is provided so recipients can benefit fully from the technology.
Donated equipment is wiped clean of existing data and provided to homeless youths. The human-I-T Connects program works with Our Children LA to provide a high-functioning, low-cost smartphone. This increases youth access to resources in real-time, allowing  at-risk and homeless teens in the LA area to access needed services. There are audio testimonials on their website from homeless teens describing how to use the phones to find a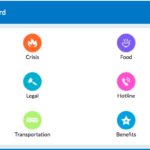 place to sleep at night. http://human-i-t.org/2016/02/08/human-i-t-donates-smartphones-to-homeless-teens/ Each smartphone is equipped with the WIN (What I Need) app, http://ourchildrenla.org/win-app/.
–Katherine Lato, VP Communications PBDD