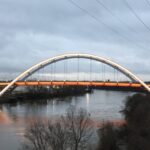 Date: Friday February 8
Time: 2pm MST/ 3pm CST
Location: via  Zoom
Meeting Type: Regular Meeting
How Called: Standing meeting
Convened: 3:05
Attendees: Barry, Maryanna, Katherine
1 Minutes
Approval of January 4 minutes
2 New Business
Budget for 2019 – went through difference from last year's. No questions. Motion to approve, seconded, passed.

Commit to Rock Bottom for April 1 for partner get-together in Charlotte at the NDIA conference. Motion that Barry book a private room at Rock Bottom for a partner get-together. Motion passed.
3 Information Sharing
Partner Profile from Digital Bridge in Milwaukee has been started. (K&B Visited in January.)

Updates: Scheduled a partner visit with LTBTL for February in Birmingham.

Website Updates: Secure https access. Updated links to NDIA resource library (changed location). Added SDFF partner profile, Refurbishing Reflections, and January Newsletter.

Net inclusion – See

action item summary

for:

scholarship info (#11)

Scheduling our get-together (#8)

Start-up Manual Working Group – edits made, call for input by NDIA. Scheduled to go to copy editor 1/31/19.

AFTRR steering committee- query of interest from James Jack of Human-I-T. Call set up for 2/19 to talk about our participation in

describing and documenting best practices of AFTRR steering committee members.

Next White Paper: Sharing your Success Stories-

google doc
4 Action Item Status Updates
Walking through Action Item List and noting updates. In the minutes, this will record items closed during meeting.
Closed:
Closed 2/8/19 – Partner profile for 

SD Futures Foundation in San Diego – meeting Dec. 20th.

1/4/19 update: draft is pending approval of SDFF. Last call for approval sent 1/22, published January 27th, newsletter published January 28th]

Closed 2/8/19: Opened 10/26/18: Maryanna will document her experience becoming a Linux refurbisher as a newsletter item.

1/4/19 – Maryanna will send out draft week of 1/7/19 – aiming to go into the January newsletter. Published 1/28/19

Closed 2/8/19 –  Opened 12/6/18: Barry will investigate QuickPay, where you can pay with payee's phone number. Maryanna sent a Zelle payment, and when back in Illinois, Barry tried to establish this with the bank & Zelle, but bank doesn't support Zelle directly, and Zelle doesn't support ATM card for business accounts.
5 Time and Location for Next Meeting
Next meeting — Wednesday March 6, 2pm MST/3pm CST via Zoom
6 Adjourn
Adjourned: 4:00