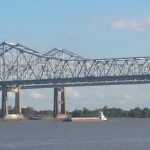 Key Takeaways:
A transition from computers to mobile devices is underway, bringing challenges and opportunities for refurbishers
There is a growing movement to push for Digital Right to Repair, and a trade association to push for this is in the process of being formed.
Non-profit refurbishers can find free access to membership in Tradeloop and heavily discounted hardware/software resources through TechSoup.
Look at iFixit for repair manuals on a wide variety of devices including mobile.
Even for-profit companies may have plans to donate computers.
While Apple products have repair challenges, software issues are easier (factory reset iPhone to wipe data, no software license needed for Apple software on Apple hardware.)
This is one of two conferences attended by PBDD board members. The report on Partnership for Progress on the Digital Divide 2015 will be coming soon.
Electronics Reuse Conference in New Orleans November 2-4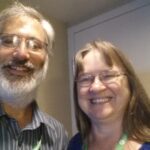 The first day of the conference required separate registration and fees and was focused on the specifics of refurbishing and sales. PBDD attended the welcoming reception on Monday evening and talked to a number of people from organizations including CyclePoint, a national network of nonprofits that employ people with disabilities to recycle electronics; Tradeloop, an exchange community of refurbishers which provides free membership to non-profits;   Electronics Recycling Center of UC-San Diego; and our partner Community Computer Connection at http://www.c3-colorado.org/. As expected, the conference was focused on hardware details and businesses involved with refurbishing and recycling. We found interesting people to talk with, and people who were interested in PBDD. What follows are specific impressions from the conference. Speaker talks are available (probably for a limited time) here.
The keynote speech was given by Sean Nicholson from Microsoft. He made the case that, despite how easy it is to go out and buy a new device cheaply, the refurbishing industry is alive and well, with forty million Microsoft-authorized refurbished PCs sold in 2015. While the refurbished market will always be a subset of the new market, it is a large percentage and since the refurbished items are often Enterprise (business) computers, they are of a higher quality than inexpensive consumer-grade computers.
Microsoft Windows 10 is intended to be the single, continually evolving version of the OS, and a direction for reburbishers with respect to Windows 10 will be clarified by the end of this year.
To learn about licenses, Sean encourages refurbishers to join the Microsoft partner network, get emails and content, participate in forums and the OEM Partner Centre, and to figure out an area of specialization for your enterprise. He advised companies not to view themselves as a Microsoft Authorized Refurbisher (MAR) or Registered Refurbisher Participant (RRP), but as a Microsoft partner that uses those programs.
The first panel discussion was on cell phones and featured Paul Baum from PlanITROI, Craig Boswell from HOBI and Kyle Wiens from iFixit. It was moderated by Willie Cade from PC Rebuilders & Recyclers. Cell phones are becoming more and more what people use to access email and the Internet. Two thirds of the people in the room could operate fifty percent of their businesses from their smartphones. The carriers dominate the used supply chain because they're afraid of losing customers. Carriers have an unwritten rule to not resell used phones or tablets in the USA market. They want to keep Americans upgrading to the latest and greatest hardware. Most of the used smart phones go to Hong Kong (70%), UAE and South America.
Parts and repairs for smart phones are inexpensive. With an unlocked used phone, users can easily switch from carrier to get a better deal. Connected tablets and smart phones are replacing laptops and scanners. At 30,000 feet, smart phones are the same as laptops. Get them in, asset management, refurbish, sell/give away. At 10,000 feet, the differences are there. Carriers provide smart phones, so carriers control more. There are more than 400 models at any given time. Need to create custom solutions.
There is a huge market opportunity in repairing broken stuff according to Kyle Wiens from iFixit. Batteries need to be swapped out periodically. Since there are seven iPhone models, it's easy to stock repairs for a relatively small number of devices which makes things easier. Each model has to be taken apart in a different way as shown in the following pie chart from Localytics.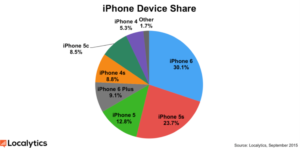 With Android there are over five thousand models of phone. With such a fragmented market, it's much more of a challenge as shown in the following figure from OpenSignal.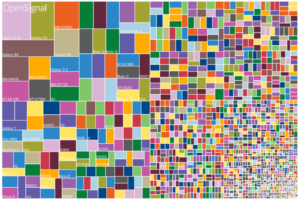 Ifixit has over sixteen thousands free manuals online. People can help by writing guides and taking pictures while fixing a new device. Manufacturers aren't providing the manuals, so the community needs to.  iFixit gives each piece of equipment a score. Zero means it can't be repaired. Consider such devices disposable – note that the battery will give out. They take apart new phones and document this so people can be prepared when they come in. Some of the interesting quotes Kyle gave included, "The battery is glued down. Glue makes me sad." And, "I just think it's fun to play with an X-Ray machine."
Fairphone from Europe has modular design with a repair manual, with a goal to have a repair score of 10. This is great for the repair community in Europe but it doesn't work in the US. As soon as it does, Kyle will be buying one. It is definitely worth thinking about the repair number when buying a phone as well as when starting to expand into repairing phones, to start with ones that are easy to repair.
Ryan McDowell, Director of Operations, Community Computer Connection (PBDD's partner) talked about non-Windows laptops, Chromebooks and Apples. Diagnosing the health of a PC involves checking the disk storage, memory, and (for laptops) the battery. From a hardware diagnostics perspective, Apple computers and Chromebooks aren't that different from other computers. The difference is the target OS, although Apples' firmware can be inconsistent even with the same models. The hardest thing about Apple equipment is booting it, try holding down "D" key and power on the machine. If you don't have access to the original disc, 64-bit Linux works on a Mac.
Linda Li from LTG (Li Tong Group) had interesting material on harvesting parts including making sure that it's economical when it requires deep engineering knowledge. This was in contrast to some of the other panels where clearly the speakers just loved to take things apart. Harvesting the parts is the way to go when there are restrictions on selling the whole unit as well as when the whole unit can't be repaired.
The Jim Lynch Award recipient was Kyle Wiens from iFixit. The awards reception was a good opportunity to talk with people. The conference facilitated networking at lunch and in the evening. PBDD had a good discussion with Mike Buckles of  Technocycle, a Houston company from Houston that for the past three years has donated a computer to each first grader at Berry Elementary school.  There was interest in sharing information and learning about similar programs, and finding a potential source for training to complement the hardware.
New Developments in Hard Drive Wiping & Refurbishing discussed standards and wiping cell phones and other mobile devices. R2 is the key standard for electronics recycling, housed within the non-profit Sustainable Electronics Recycling International (SERI). It provides for best practices with regard to processes, safety measures and documentation for business that recycle electronics. It includes standards for data destruction provided in NIST Special Publication 800-88, Guidelines for Media Sanitization.
This was the 12th year for the conference (although the name changed this year from International Computer Refurbishing Summit.) It met the goal of providing opportunities for connections between people doing computer refurbishment and repair, managing assets and electronics recycling. There weren't any talks on digital inclusion although plenty of networking opportunities. We learned a lot, including things to be aware of about data wiping, parts harvesting and other factors affecting refurbishing and recycling electronics.
by Katherine Lato