Digital Bridge began in 2009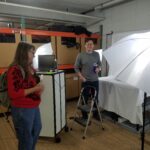 by Dan Pastori and Jeff Hanson as Project Community Computers, a student organization at the Milwaukee School of Engineering (MSOE). Digital Bridge has since grown into an independent, nonprofit organization headquartered in the Walker's Point neighborhood of Milwaukee. In January, we met with Executive Director and founder, Jeff Hanson, and toured the facility.
The organization's mission is to connect under-served groups and individuals with the digital resources that they struggle to access on their own. They achieve this through refurbishing used technological assets from businesses and then offering this technology to low-income households and nonprofits at an affordable price, all while reducing the environmental impact of e-waste. Last year, they distributed over 750 computers.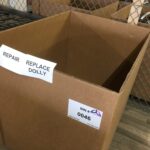 For their ongoing clients, Digital Bridge leaves bins for the businesses to fill up, then return to pick up the full bins, and drop off a new empty bin. The bins are cardboard boxes on dollies that fit on the ramp on their truck. It costs $60 to make each bin, $40 for the box and $20 for the dolly. Previously, they had worked with a small number of larger corporate donors, which resulted in bursts of equipment donations. To create a smoother incoming flow of equipment, the organization targeted multiple smaller businesses as well. Digital Bridge makes sales through an online store and receives donations directly to their warehouse. They use PCs for People inventory management. It works well for inventory and for managing the refurbishing process.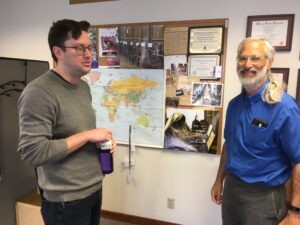 By working with local nonprofits to provide technical service and computer lab donations, they have implemented over 20 computer labs spanning three continents. Their impact ranges from improving the quality of education in rural Kenya to providing tools for finding employment in urban Milwaukee. For local installations, Digital Bridge works with other local nonprofits. Digital Bridge also provides the equipment and set-up instructions for an overseas group, Project Kenya. With Digital Bridge as a partner, the organization set up a lab of 33 computers within their secondary school.
Refurbished computers that aren't deployed in labs or donated to individuals are sold through Ebay, and Digital Bridge has a small studio set up to photograph the equipment being sold. Since there are a relatively small number of manufacturers of business computers, they have found it effective to maintain a station for imaging each type of computer. They also have a battery testing station for each manufacturer. They charge them fully, then check the statistics from the battery to determine whether it can be resold or needs to be recycled. They buy a lot of new batteries, since many of the donated batteries are not up to spec for resale. Anything that cannot be repurposed is sorted into appropriate categories before passing it off to R-2 /E-Steward Certified recyclers. They don't deal with breakdown of circuit boards into hazardous materials.
At this juncture, they are not using a lot of volunteers, but may hire someone to help manage that to allow for growth in this area.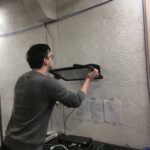 Jeff created a 32 volt lamp from a scratched screen. He found the biggest trick was to prevent the power supply from going to sleep (like most screens do). We were impressed.
— Katherine Lato – VP Communications PBDD