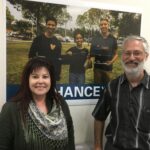 We met with Chéri Pierre, the Chief Executive Officer of  Computers 2 SD Kids on January 23, 2018 in San Diego, CA. Collaboration was a strong theme of our conversation. As Chéri said,  "Collaboration is good. Your organization can then be efficient in the budget, not try to do things that someone else can do better. The refurbishing industry is more collaborative than many nonprofits." A related theme was the importance of focusing on what they do well, providing computers to low-income people in the San Diego area. Over ninety percent of the recipients of computers have very low or extremely low income levels.
Computers 2 SD Kids (C2SDK) "believes all children and their families in San Diego, regardless of their economic status, need to be computer literate and have equal access to technology and the crucial educational, occupational, and financial resources that technology can provide to improve their educational options and their futures." They distributed 22,000 computers last year. They stay focused on their program and are fiscally tight. To avoid having computers end up in local pawn shops, they charge $100 for a desktop, $200 for a laptop including one year free tech support. They provide Microsoft software on all computers, including links to free training and other resources, such as cyber security awareness and links to local food pantries. The idea is to have people use the computers as a means to access other resources in the county. As part of their technical support, if the computer can't be fixed, or is simply requiring too many repairs, they swap it out for another one. After one year, technical support that requires a visit to c2sdk is $20, no charge for phone support. As Chéri said, "Having that technical support program guarantees to a higher decree that the computer at the end of life will come back to us." They put reuse before recycle.
Seventy to eighty percent of their computers are distributed through schools or libraries. Before a hosting event, they distribute flyers such as the Connect 2 Compete Flyer – 2017 Sample to blanket the area including surrounding schools with information about who is eligible and what they get. Connect 2 Compete signs up people for internet service using the Cox network.  C2SDK can distribute a large number of systems. They will partner with any other nonprofit that already serves low-income families. They offer free training once a month through the public libraries. People who attend the two-hour class get a computer. Service personnel deployed or getting deployed get computers. They also distribute computers at their facility for people who cannot attend one of the distribution events. Please contact info@c2sdk.org if you are interested in getting material to use for distributions in your own area.
Since so much of their work distributing computers is through local schools, C2SDK has found a rhythm with the academic calendar, building up a stockpile of equipment over the summer so that students entering school can receive computers to work with in the new year.
They have also developed partnerships outside of San Diego. Examples include the California fire relief fund—working with school and community agencies aiding individuals who lost their homes in the recent wildfires. They work with schools that were destroyed so that students and employees who lost their homes can receive replacement computers. They have partnered with some agencies that work internationally, setting up community labs in other areas of the world.
The refurbisher's mailing list is very supportive. There was a time when C2SDK was about to do a big distribution when the Microsoft licenses they needed weren't available. Chéri wrote on the list at 9 p.m. Someone contacted her, offered their licenses and asked, "What else do you need?" Even for-profit refurbishers are supportive of nonprofits.
Poverty is perpetuated by economic barriers to technology.  Larry and Tammy Hershfield established Computers 2 SD Kids in 2004 to help reduce the digital divide. Many children didn't have equal access to computer technology while friends of the Hershfields were replacing their computers. Since the old computers weren't worth much, although they often still worked, their friends rarely tried to sell them. Computers have many environmentally unfriendly components. The Hershfields wondered what happened to the old systems, how they were being recycled and if they could be better used to provide technology to those in need.
After over a decade, C2SDK has grown far beyond collecting, recycling and refurbishing computers from individuals. It works with many large corporations to increase the number of computers available to San Diego families in need. Families can apply individually and there are community distributions  through school districts and community agencies.
For donations that they receive that they can't use, they have an eBay store as a non-profit. They refurbish and distribute the computers that are the best fit for their target families, the others are sold on eBay to fund the parts needed on the refurbished computers. This income has helped provide most of C2sDK's funding, and reduced their dependence on grants and monetary donations.
They benefit from several long-term volunteers who have volunteered Monday through Friday for years. This allows them to keep the costs down and provide consistency of service for their clients.
They used to have a set of complex Access databases that was developed for them. They now use Salesforce for Nonprofits. The ability to track computers and individuals is very easy. "If I'd known it was this easy, I'd have done it years before. It's very good for the price." When C2SDK start activation, they add the computer number into the system. It pulls that, the hard drive, the processor, the product keys, etc, onto a memory stick while a volunteer is activating the computer. All the information goes into an Excel sheet and is uploaded into the database. Any volunteer captures all the information as part of the activation process. Salesforce doesn't require uploading the computers in sequential order. (The old system required them to be in a particular order.) Formulas in Salesforce are set up so that a recipient with a child in elementary school and middle school doesn't duplicate the information. It requires less administration time. The ability to add new fields is very easy, and Salesforce was very helpful with migration from their previous system.
C2SDK is in the process of changing their website to use their new logo and mascot, CAM. As a class project without cost to C2SDK, students from the Art Institute of California —  San Diego worked with an advertising agency to develop new branding, using CAM as their mascot and the colors orange and teal.
For more information, please see their web site at: http://c2sdk.org/
–Katherine Lato, VP Communications PBDD