Comp-U-Dopt provides technology access and education to underserved youth in greater Houston. PBDD met with the Executive Director, Megan Steckly, in February and toured their facility. Comp-U-Dopt was founded in 2007 by John Osha, a Houston patent attorney, based on the belief that every child deserves equal access to education and opportunity. Comp-U-Dopt has provided over eight thousand students and families in the Houston area with home computers while reducing the e-waste from unused computer equipment.
In Houston, there are 133,000 families that don't have computers at home. Comp-U-Dopt served 6% of that need in the last ten years. The need is great.
Computers are awarded in a variety of ways. High schoolers commit to eight hours of technical training time and then are awarded with a computer. During this eight hours, they are introduced to computer engineering and software programming. Computers are also awarded to elementary school-aged children who submit essays explaining how a computer will benefit their education. They attend a basic computer skills workshop with a parent/guardian. The Executive Director of Comp-U-Dopt, Megan Steckly, shared a few of the more memorable essays she has read recently such as a child who wrote that he "was sick of spaghetti, needed a computer so his mom can look up new recipes." Another person shared that getting a computer has helped the whole family since she no longer had to drive her nieces to the library so they could access the computers there.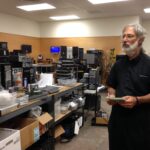 Comp-U-Dopt has been in operation for ten years and in their facility for the last five years. They refurbish about 50 computers a week, placing the Ubuntu operating system on each computer along with additional Linux ­based educational tools. Ubuntu works well on the older machines they have, giving them years of additional usability. They load seventy educational applications that can be used off-line, showing kids that computers can be used for more than social media and word processing while increasing their technical literacy. 
The curriculum for after-school programs stresses the relevance of technology education and underscores that learning is fun. Activities include using paper-airplanes for studying aerodynamics, designing a superhero, shaping a story that is then turned into a playable video game, and other fun tasks. Comp-U-Dopt wants to teach that technology is more than IT, so they cover life skills in a variety of industries.
Comp-U-Dopt launched STEAM Team in February of 2016 which is a hands-on, project-based curriculum with five half-day workshops leveraging technology to train students in grades 5-8 in science, technology, engineering, arts and math. By 2017, they had 145 students in seven sites, way beyond their stretch goals. They market and license the program to other organizations to make it as self-sustaining as possible. Licensees participate in a week-long train-the-trainer session and get support throughout the delivery period.
Their largest fundraiser is an annual Oktoberfest. This year it will be held on October 19th, with over 250 people helping to raise funds to tackle the divide in technology access and education.
One challenge they are faced with, as they grow, is the need to scale their ability to better track computer donations and inventory. Recently they were asked what had been done with a donation of eleven laptops. The donor was seeking confirmation that they had been received. While Comp-U-Dopt was able to locate them using their current Access database, it highlighted the need for a good inventory control process which they are working on.
Check out their website  at http://compudopt.org/ for more information.
–Katherine Lato