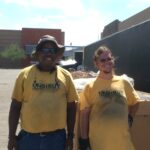 Arizona Students Recycling Used Technology (AZStRUT) has refurbished more than 56,000 computers for nonprofits and schools in Arizona in the last twenty years. Founding sponsors Intel and Motorola formed AZStRUT in 1997. Currently, over one hundred companies donate hardware at several drop off sites in the Phoenix area. Equipment that can't be refurbished is recycled.
The mission of AZStRUT is to improve the competitiveness of Arizona's Technical Workforce through:
Supporting applied learning in our educational systems through scholarships and donated electronics & technology
Providing refurbished equipment to education and community non-profit organizations
Promoting diversity through technical education and work experience
Disposing electronic waste responsibly
Advocating responsible recycling
All equipment serves a double purpose as 500 students in more than a dozen partner schools yearly learn new skills while refurbishing the computer equipment before it is donated to schools or organizations. These "Techie Camps" introduce computer hardware, peripheral equipment, maintenance and security procedures to the participants.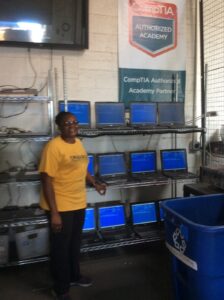 Thalaya Nero, refurbishing coordinator
They have a camp outline, pre-assessment, post-assessment and an evaluation form. They can provide trainers (for a fee) and all computer equipment. The requesting organization must transport the equipment to and from the Techie Camp. Two student interns assist the staff twice a week in exchange for tuition to attend higher education classes.
The following photos are from the AZStRUT Facebook page, included here with permission.
They are expanding their refurbishing and repairing efforts to include mobile devices such as tablets and smartphones. Students get hands on learning with the donated materials while repairing them.
In September 2017, AZStRUT gave 300 refurbished laptops to 10 rural libraries who are developing lending programs.
AZStRUT is a 501c3 (non-profit) organization and participates in an annual computer recycle day. Check out their  YouTube channel  and follow them on Facebook.
–Maryanna Milton and Katherine Lato