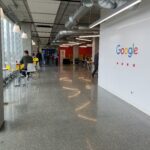 The Alliance for Technology Refurbishing and Reuse (AFTRR) consists of nonprofit technology refurbishers seeking to increase the awareness of the contributions of their organizations, individually and collectively, to a wide range of populations in need. The AFTRR 2019 meeting was held in the Chicago on June 13th and 14th, hosted by the generosity of Google.
Bud Rizer, former executive director of the National Cristina Foundation, welcomed the attendees and presented information on data collection by AFTRR, encouraging all members to complete the surveys. The purpose of this information is to better market AFTRR services to donors and to help establish relationships with other AFTRR members. 
The day and a half workshop had panels divided into several areas such as: sourcing, refurbishing, distribution, support, social media, finances and sustainability.
Presentations available include:
Some of the key points we gained were:
Having 3rd party certificates are a tie-breaker in getting RFPs. Customers often need to perform due diligence, a highly recognized certification often fulfills that due diligence. (Came from Toby Schneider, PCs for People)

May not mention being a nonprofit until late in the game, although community impact often closes the deal. When asked to donate to a special organization, rather than varying from their process (and complicating their distribution), they will explain and provide reports showing the level of donations in the special organization. (Came from Casey Sorensen, PCs for People)

When renting or buying a truck, get a lift gate since it lessens the risks to the people loading the truck. Also, you may have to lock up the truck to avoid someone stealing parts. 

Think about having a safe parking space before buying one. (Came from

James Jack, human-I-T –

Presentation Material

)

Batteries are a major cause of stigma around refurbished technology. Charge batteries first, they lose charge over time even when unplugged. (Came from

Jeff Hanson – Digital Bridge –

Presentation Material)
For mobile devices, start by removing all tags and checking for damaged screen or case. If the battery is bad, use only the screen. (Came from

Chang Yang, PCs for people, 

Presentation Material)

Ebay offers the ability to register a "store" as a charity, and to have a skin so that people realize it's going to a charity. Ebay also has the ability to focus a listing, so that you only pay a percentage if it sells through the promoted list. Last year,

Human-I-T did a webinar on this, suggest that next time it be recorded. (Came from James Jack, Human-I-T)

Free Geek Portland tried Amazon to sell used items, but things kept getting tighter and tighter. If the customer complained, even about stuff that Free Geek had described as used, the customer was always right. (Dan Barholomew from Free Geek Portland)

Align the Mission with the Enterprise to support it, and apply for grants to try new things. (Dave Sevick of Computer Reach, Presentation Material )

 

AZStRUT didn't sell for years because their company connections didn't want them to. By embracing being an environmental champion six years ago, in good situation now to extend the life of electronics. (Tom Mehlert, AZStRUT)

 Controlling the risks to your reputation is critical. Even when using a R2 certified recycler, you must still check up on them. The annual audit might find a problem that invalidates the three-year certification.  Do a downstream component diagram (he had one) that can be shared with your donors. (Chris Martin – Information Technology Exchange)

DITTO is a cloud-based data collection program created to help community organizations collect participant demographics, class information, enrollment tracking, staff management, participant attendance, training hours, and completion status. (Samatha Schartman, Connected Insights, Presentation Material)
For Social Media, focus on Linked In. (Mark Casper, Tech for Troops, Presentation Material)
Can get enthusiastic corporate and city donations for a timely event such as the Triangle Esports Championship. The event benefited charity, but wasn't a charity event, so charged full-price. Next time may get businesses to sponsor some of the attendees as well. Don't try to set up, run the event, and take down in one day. (Michael Abensour, Kramden Institutde)

Spectrum Digital Education launched in June 2017 as the company's second national philanthropic effort to complement the work of Spectrum Housing Assist.

Grants are awarded to organizations that serve their market. The second year of  grants will be rolling out in July 2019. Comcast has a similar program for their markets. Spectrum awarded $1,000,000 in financial grants to 40 nonprofits across the US. (Karrin Smoley, Charter/Spectrum Communications)
For technical support on most any product, check out iFixit.com, and share home-grown repair guides there. Also, advocate for the right to repair by joining repair.org
We are looking forward to hearing about progress on the areas that we discussed in smaller groups:
Sharing best practices with AFTRR. How can this be accomplished?
Measuring impact of services on end users, telling the story.
Finding the best recycler. Capturing value in the eWaste process.
Katherine Lato & Barry Glicklich