As an example of the valuable contributions a corporation can make to digital inclusion, this profile highlights TechnoCycle's community outreach program  which provides a free computer to incoming first graders attending Berry Elementary in North East Houston. The cost of providing internet access is underwritten by outside sponsors. Berry Elementary is an environmental science magnet school serving mostly economically disadvantaged students. The program started when Mike Buckles went to an environmental fair hosted by the school, presenting information about what TechnoCycle does. After talking with Lori Kelleher, the magnet coordinator, Mike said, "There must be more we can do together." Read more
Having grown up comfortable with technology, Steve Black found himself being the authority for older relatives who wanted to learn about Facebook, Skype and Netflix. As ease-of-use became a focus of the industry, they wanted to know about all sorts of things: how to connect with friends, how to find an apartment to rent while on vacation, how to download library books to a reading device, and much more.
While Steve taught his older relatives one-on-one, they often couldn't duplicate what he had taught them a few weeks later. Either the notes they took while learning were missing important steps or the website changed its interface. Busy with his own company, Steve didn't have time to answer their questions so he looked for websites with tutorials for older adults to learn how to use the internet. Most content was out-of-date, glossed over important steps and confused his relatives. He wanted a set of tutorials that progressed from basic skills to more advanced features. When he couldn't find such a website, he decided to create Techboomers.com. Read more
Lutheran Social Services of North Florida has a Computer Refurbishing & Technical Assistance (CRTA) program that provides low-cost computers in northern Florida. Katherine and Barry met with William Stone and Peter Ott in November of 2015 to talk about how our agencies might help each other.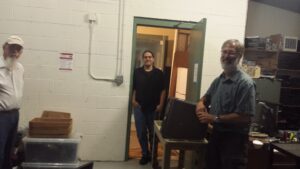 The Computer Refurbishing and Technical Assistance program was started as a service of an existing agency when a teacher at Florida State University wanted to start a computer refurbishing program and contacted Lutheran Social Services of Northern Florida. The program refurbishes computers donated by the community and distributes them in North Florida. Potential clients come through partner referral agencies which does the recipient vetting and makes the actual request on the CRTA website. Since each request is on behalf of a specific person or family, the computer can be adapted for special use when needed.  
For over ten years, the Indianapolis nonprofit Net Literacy has been run by teenagers, with the mantra of not letting well-intentioned adults get in the way of the students. Like their other programs, the summer Safe Connects internship program was suggested by the teen members of the board of directors. As the administrator put it, "Our secret sauce is the team leaders and veterans."
Teamwork—we hear a lot about it, we know employers like experience with it, but how do economically-challenged teenagers gain potentially valuable experience in working on a team?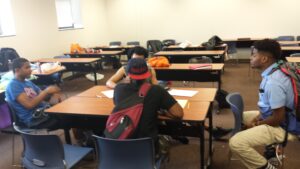 On a Thursday afternoon in July, Barry and Katherine had the opportunity to see the Safe Connects summer internship from Net Literacy (one of our partner agencies) in action. This is a six-week internship where (mainly) high-school students work in teams to produce videos on Internet Safety. In addition to learning about the consequences of online behavior, the students learn what it's like to have a job, to work in teams, and the consequences of their actions. They are paid a stipend, and compete for bonuses for first, second, and third best video of the week.
The People's Resource Center is the inspiration for, and a founding partner agency of, Partners Bridging the Digital Divide.
"Since 1975, People Resource Center has been bringing neighbors together to respond to hunger and poverty in DuPage County. With a team of over 2,000 volunteers, we offer nutritious food and other basic necessities like clothes and rent assistance for people facing tough times. And we connect people with resources–education and tutoring, jobs, technology, art, a caring community–to create a future of hope and opportunity for all."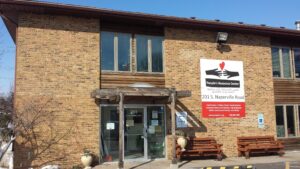 In the last ten years, the People's Resource Center (PRC)  has given away over 11,500 donated computers and provided free training on using those computers to clients in DuPage County, Illinois. Read more